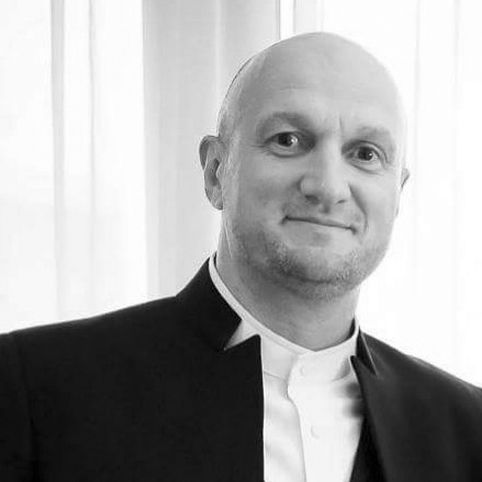 Francois Giussani
Consultant Director

Born and graduated in Switzerland, with Swiss Federal Chef Certification and graduated at the prestigious Hotel school in Lausanne, Switzerland (EHL), fluent with 5 different languages (Italian, French, English, Spanish and German) making him an excellent people's communicator.
Francois has built his experience around the world, such as Europe, Asia, Middle East, Central America and South America inclusive of multiple experiences on opening projects within hospitality (hotels and restaurants), healthcare catering services, Central Production Kitchen (CPU) and as well retail shops.
He is a hands on leader and trainer with 360° experience on Food and Beverage operation (front and back of the house) lean management, able to set clear foundations guiding any projects by facilitating smooth operational skills and responsibilities with clear objectives for measurable results.
During Food Festivals, privileged to work coast to coast with Michelin starred Chefs such as Nathan Outlaw, Tom Aikens, Alfredo Russo and Alfred Prasad, as well celebrity chefs such as Luke Thomas, June Tanaka, Bobby Griffin, PaulFrangie, Reza Mohammed, Jenny Morris,and other Asian celebrities, to mention.
Successfully open the second butchery retail shop in Shanghai China, setting up operation procedures and safety guidelines, continuous training for smooth operation. Awarded Best Butchery of Shanghai for the second consecutive year within the group and now working on expansion (www.swissbutchery.com)
Teach future talented professional on cookery classes at the prestigious ICCA in Dubai, inclusive of job placement with Luxury and 5 stars Hotels of the region. Set up the SOP for future accreditation, consequently awarded with the International City & Guilds Lion Award 2016 and Best Education City & Guild Award of Middle East 2016. (www.iccadubai.ae)
Setting up fully operational health care kitchen facilities in different countries (Switzerland, Malaysia, Saudi Arabia and UAE), providing cook & chill, cook & serve techniques and modern technologies.
Coordinate and train catering TEAM to operate hot & cold trolleys for patient service aiming high "a la carte" quality meal service at prefect temperatures within the safest criteria, inclusive of menu engineering for normal and multiple dietary requirements.
Achieved three times the JCI certification for Hospitals in Saudi Arabia (x 1) and Malaysia (x 2)
Halal and HACCP Certification of the CPU kitchen in Malaysia, serving healthcare facilities, airlines, small restaurants and cafeterias.
Successfully organized and trained talented individual for cooking competitions and promotions abroad, inclusive responsible of organizing, planning all operational, administrative and logistics.
Restructured small hotel and restaurants, back of the house and front of the house, which were damaged by Natural disasters (Switzerland 2001).
Charity Guiness Records:
• With Movenpick Ticino I have organized and prepared 150 meters mille-feuilles strawberry cake for a charity event, working together with syndrome of down kids (http://www.portolocarno.com/it/storia/festa_i.htm)
• With a team of 30 people, I have assisted preparing, set up and completed the longest moon cake line in Malaysia measuring 710.32 metres long, for charity purpose (http://www.theborneopost.com/2011/09/12/hotel-creates-record-breaking-mooncake/)